zK++ 0.4 Evolution 57
Public Release: June 12, 2006
Developer: Lord Sabbath
DOWNLOAD FULL VERSION HERE
DOWNLOAD LIGHT VERSION HERE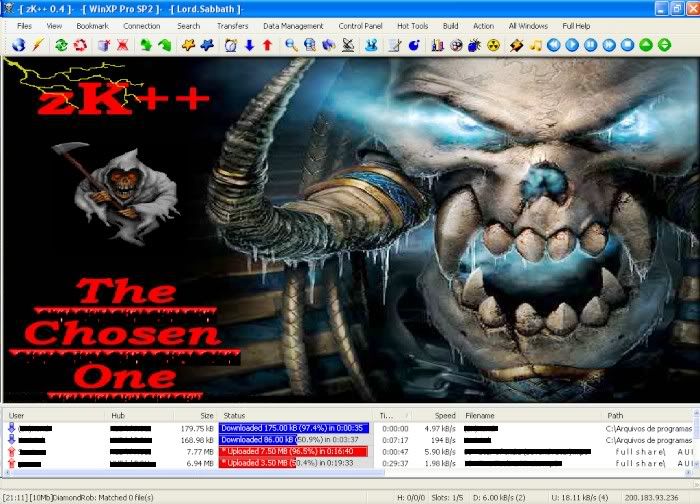 Description:
Goodbye bad clones! zK++ now detects with precision and automatically it informs the HubOwner about existence of a cloned IP into the hub. It shows a correct message to check if that cloned IP countais the same user or not. Some new built in features and extra tools added; few bugs detected and fixed. zK++ 0.4 was hardly tested during 10 days before its public release and it continues perfectly stable. All its features and tools are working fine. Light Version - since that I received some requests, there are two 0.4 options - a Full and a Light versions. The 'Light' do not countains all extra files, pre-configurations and some other built in increases from 'Full' version.
Change Log (resume):
[Added]
'Bookmark', 'Transfers', 'Data Management', 'Control Panel', 'Build' and 'Action' Menus; 'Restore All', 'Close All Offline PM Messages' and 'Arrange Icons' in 'All Windows' Menu; Convert Calculator 4.10, Stream Size Calculator and Irfan View 2.92 in 'Hot Tools' Menu; ASCII Creator in 'Build' Menu; Autostart Program Viewer and Notepad Extra II in 'Control Panel' Menu; Public Hublists and Hublist Server Registrations (txt) in 'Bookmark' Menu; Tips, FAQs & Tutorial in 'Full Help' Menu; 'Refresh User List' in 'Action' Menu.
[Updated]
Mainchat and PM Texts About Clone IPs in the Hub; Menu and Settings Resource Page Order; Toolbar and Menu Images; 'zK++ Features & Stuffs' Text Files; 'Apha', 'Beta' and 'Gamma' Levels changed to 'Default', 'Standard' and 'Advanced' in User List Images Settings; 'Window' Menu Renamed to 'All Windows'; 'Close All Disconected Hubs' Moved From 'Connection' to 'Window' Menu; 'Refresh File List' Moved From 'Files' to 'Action' Menu; 'Settings' Dialog Resource Page (left side); 'General', 'Visual Style', 'Colors and Images', 'Players and Sounds', 'Raws', and 'Deterctor' Dialog Resource Pages; StringDefs, DCPlusPlus.rc, zK++ Features & Stuffs.txt and Changelog.
[Fixed]
Connections From Same IP Detection (now it works great !!!); Bug on 'Install URL Handler on Startup'; Text Errors in English Language; Splash Screen.
[Removed]
'dialog resources' Directory from Source Code; 'Hide <zK> TAG (zK++ is emulate as DC++ now); 'New Versions Pop Up' Feature (it had a bug).